Between his innovative offense, personalized smoothies and disdain for draft hype, Chip Kelly has established himself as one of, if not the most unconventional coach in the NFL.
His interest — or lack thereof — in depth charts only furthers that notion.
In a Q&A with Philly.com, Kelly bluntly stated that he has no use for traditional depth charts, and, in fact, didn't even create the first unofficial preseason chart, released Monday.
"Seriously, the depth chart, I don't care," Kelly said. "I think [Eagles PR Director] Derek [Boyko] did it. I mean, it's absolutely nothing. I know we're going to get questions on it, and I'll be honest with you, I do not care. . . . I said a long time ago, it's written in sand, it's written in water, it can be written in anything. That depth chart means absolutely nothing. The only reason we make one is because they tell us to make one. Call it whatever you want to call it."
That answer was preceded by a question about Eagles cornerback Nolan Carroll, who's tentatively listed as the primary kick returner. Again, Kelly emphasized, it was only done to meet the league's requirement.
"He was doing a real nice job, but I wouldn't put much into depth charts," he said. "You've got to send one out, so who's solidified as our No. 1 kick returner isn't based upon what we put down a couple days ago on paper.
Much like Bill Belichick and injury reports, Kelly doesn't waste any time with formalities. Most of his players, particularly on offense, are interchangeable and can shift around the formation. It's part of the reason why his system works so well. If it weren't for NFL sticklers, we'd likely never see a depth chart come out of Philadelphia.
For those that do care, though, here's the Eagles' depth chart as it stands now. Remember: It can — and will — change.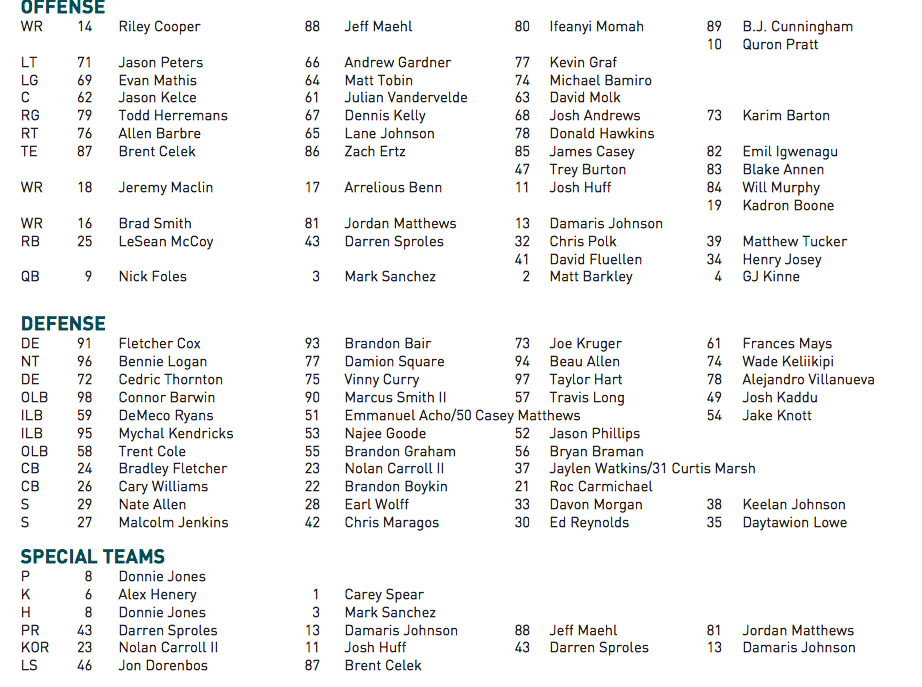 (Photo credit: Matt Rourke/AP)
[follow id="Helmet2Helmet" size="large" count="true" ]